Business Sectors
Northeast Tennessee and Southwest Virginia is home to many successful business and companies; large and small. We are a region with a can-do-it and business friendly attitude. We are attractive to companies because of our low cost of doing business and incentives; training programs available and workforce; central location in the southeast with access to more than 75% of the nation's population within one-day truck delivery; transportation - interstate and highway access; and the quality of life - nation's lowest in cost of living and the region's culture and sense of community.
We are home to a Fortune 500 corporate headquarters, five of Tennessee's top 50 employers, and 4 of Tennessee's largest corporate headquarters. Our region has a diverse portfolio of companies that have expanded, moved, and started up here. We also have international companies that have found our region a great place to do business. They range from appliances to motor vehicles to chemicals.
Appliances
We have a strong appliance base in our region with major companies such as, A.O. Smith (America Water Heater) and Aerus Electrolux.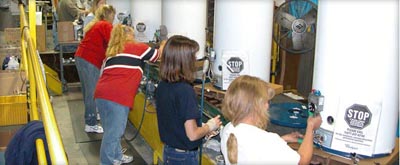 A.O. Smith Co. (American Water Heater) in Johnson City, TN
Chemicals
There is a significant presence and strong concentration in the region – as evidence by the nearly 8,000 employees in this sector. Companies in this sector include Eastman Chemical, BAE Systems, Excel Polymers, Domtar, and Primester.
Logistics & Transportation
The central location of our region has always provided an undisputed advantage. More than 70% of the U.S. population is located within a one-day drive. In fact, eleven interstate highways crisscross the region so no community is more than 75 miles away from a mayor roadway. Many trucking companies serve our region and surrounding areas, as do all Class 1 railroad companies in the U.S. Companies such as Wal-Mart, Heartland Express, and Pepsico have chosen our region to locate their distribution/transportation center.
Call Centers
The customer contact industry is finding a home in Northeast Tennessee and Southwest Virginia. The tele-service industry enjoys extremely low turnover in the region. Nationwide statistics indicate that turnover rates average 35% in most areas, but the region's turnover rates in established centers are consistently lower.
Motor Vehicles
The region is located at the center of America's most populous automotive markets. It is served by multiple interstate highways, major rail companies that offer quick access to markets and a highly productive workforce. The region is well positioned to benefit from the growing automotive sector, which includes, Koyo Corp. of USA, a wholly owned subsidiary of JTEKT Corp and Nakatetsu Inc. of TN joint venture "Nakatetsu Machining Technologies; and Borla Performance Industries to name a few.
Health Services/Life Sciences
Healthcare and life sciences can be found throughout our region and surrounding areas. With the multiple colleges/universities and pharmacy and medical school available provide a continuing source of highly skilled workers. Our two major health care systems, Mountain States Health Alliance and Wellmont Health System, along with Holston Medical Group and several private specialty health care hospitals provide service to our region.
Plastic & Rubber
Plastic and rubber manufacturing has a strong presence in our region. The labor force is loyal, dedicated, and appreciative of industry and the opportunity it brings. The workforce possesses a diverse supply of skills kept current by several educational institutions with engineering programs and others with technical and engineering-related programs. There is a vast pool of trained machine operators and maintenance workers. The region is a center of innovation in the process-sensitive plastics/rubber industry. Engineering innovation reduces production costs, and the ongoing development of new products is key to enlarging markets and margins.